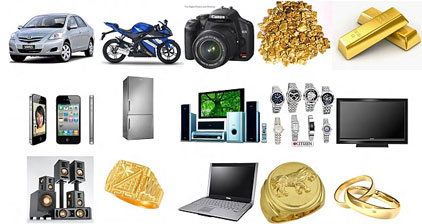 Antiques… paintings, furniture, jewellery, bric-a-brac, collectibles, and memorabilia.
Call first to determine if we have interest in your Amplifiers… stereo, surround, public address, guitar, keyboard, combo, and heads.
Appliances… all those electric handy household helpers.
Bicycles… mountain, motorized, kids.
Binoculars… small to large. Zoom.
Cameras… video, SLR, large format, pocket zooms, lenses, flash guns, tripods, accessories
CASHGHANA reserves the right to decline to loan on any items.
Camcorders… vhs, compact vhs, super vhs, 8mm, digital, accessories.
Camping gear… back packs, stoves, lanterns, lights, quality tents & sleeping bags, accessories.
CB radios… 27 meg, u.h.f., scanning, communication
transceivers, power supplies.
CD's… over 1000 in stock at any one time.
Computers… late model only, plus modems, software, speakers, accessories.
Diamonds… large to small.
Discmans… portable, rechargeable, anti shock Effects pedals… digital, analogue, vintage, rack mount, multi.
Electronics… Gadgets and gizmos.
Fax… plain paper, phone, answering machine, fax phone switches.
Fishing rods… boat, game, jetty, surf, telescopic.
Fishing reels… overhead, spinning, game, sidecaster, and baitcaster.
Games consoles… Nintendo 64, Playstation, Super Nintendo, Sega Saturn, accessories.
Garden tools… if it's to do with plants we deal in it. Wheelbarrows, trolleys, ladders.
Gold… chains, bracelets, bangles, rings, broken pieces, scrap, nuggets.
Guitars… if you can strum it we deal in it. Acoustic, steel, bass, electric, vintage.
Handheld games… Gameboy, pocket gameboy, games, accessories. Handtools… tool chest, cabinet, sets.
Hydroponics… lights, ballast, reflectors, cabinets, accessories.
Jewellery… Precious trinkets & baubles.
Keyboards… synthesizers, midi, professional, home.
Knives… chef, oriental, samurai, swiss, german, us, pocket, sheath, swords.
Microphones…professional, cordless, karaoke, lapel, public address.
Midi equipment… keyboards, triggers, sequencers.
Microwaves… carousel, convection, compact, large.
Musical instruments… As long as it is working.
Organizers… electronic dictionaries, digital diaries, scientific.
Precious stones… diamonds, sapphires, rubies, emeralds, aquamarines, more…
Professional audio… mixers, fx units, multi track recorders, sequencers, drum machines, rhythm machines.
Power tools… professional, handyman, rechargeable, more.
Radios… workshop, short wave, mantle, with cassette, clock.
Scanners… image, radio frequency.
Speakers… stereo, surround, public address, bins, center, compact, sub woofer.
Stereos… components, midi & micro systems, portable.
Telescopes… terrestrial, astronomical, spotting, zoom & accessories.
Televisions… colour, small to large. Smaller black & whites.
Video cameras… vhs, compact vhs, super vhs, 8mm, and accessories.
Video recorders… 2, 3, 4 & 6head, stereo, long play, multi system, g-code.
Walkmans… stereo, recordable, rechargeable, micro, mini, auto reverse.
Watches… swiss, quality Japanese, gold, silver, pocket, wrist, good order and quality only.